Free Radio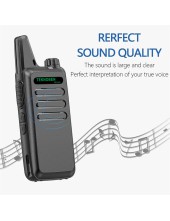 Line, Card, Free Net and Unlimited Talk
Much more than you expect from a radio that you can use without the need for a license,
Superior sound quality, room listening and hands-free headset talk (wox, handsfree)
It has a stylish design with its wireless ergodynamic and robust structure.
He owns it. In addition, without hearing other conversations with frequency loadings specific to our company,
You can only talk among yourself without interference.
if you need
Can switch to other PMR frequencies on channel 16, other
If you set the frequency of the PMRs to 5.5, you can talk.
Showing 1 to 9 of 9 (1 Pages)